DISCOVER RV LOTS BY OWNER
RV LOTS FOR RENT & RV LOTS FOR SALE BY OWNER
Your One-Stop-Shop for Buying, Selling, and Renting RV Lots
Finding a great RV Lot for sale or rent has never been easier. We've taken all of the guesswork out of your next RV adventure with our intuitive and easy-to-use platform. We've taken inspiration from all of the innovative vacation property platforms on the web and applied their features (as well as a few of our own) to RV lots.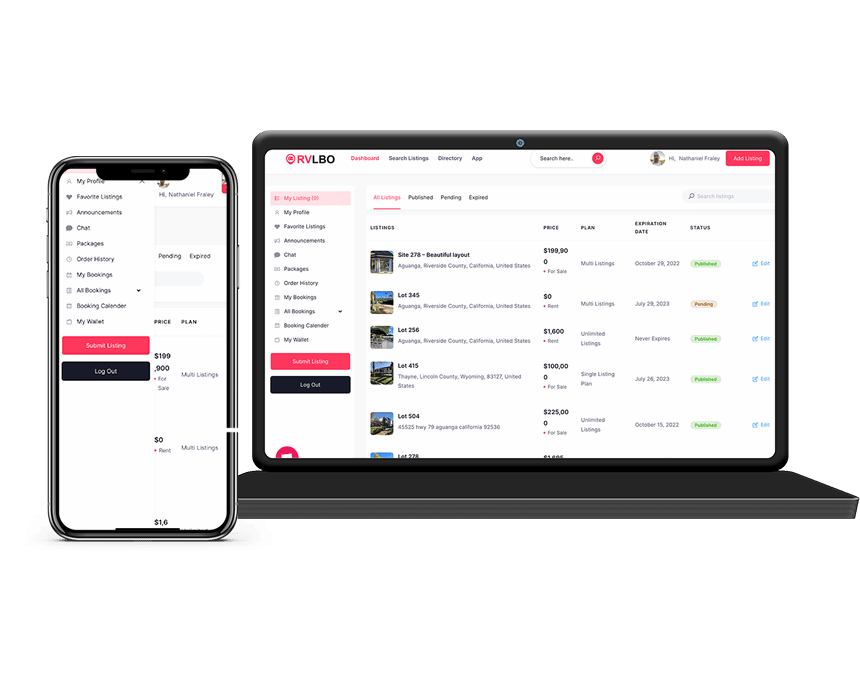 This new platform works wonders for both the property owners AND those renting/buying them. The software is intuitive, a breeze to use, and allows you to connect with other RV enthusiasts within minutes (think Vrbo or AirBnB for the RV community.)
Showcase & List your RV Property Within Minutes
What Our Buyers And Sellers Say
Jasmine Donovan
Rancho California RV Resort
My husband and I own two properties in this resort and its been so easy to rent out our properties with RVBLO. We also use the program ourselves when we travel.
Mark Miller
Star Valley RV Resort
I found my new property using RVLBO. It made it very easy to communicate between the owner and myself. One month later we closed on this property and now loving the life I dreamed about.
Jason Mcyntire
Thorne RV Resort
RVLBO made it very easy to drive across country and find new RV Resorts and book online. Most websites only have campgrounds available so this was perfect for us.
Try Today, Risk-Free | No Obligations